Attention all 6th, 7th and 8th grade students interested in playing football next year. There will be a minicamp on Tuesday, Wednesday and Thursday this week from 2:30-4:00. Please bring workout clothing for indoor and outdoor activities. We will meet in the weight room.
High school art teacher Deb Anderson shared her amazing talent by drawing the first-ever Riverhawk to grace the high school yearbook!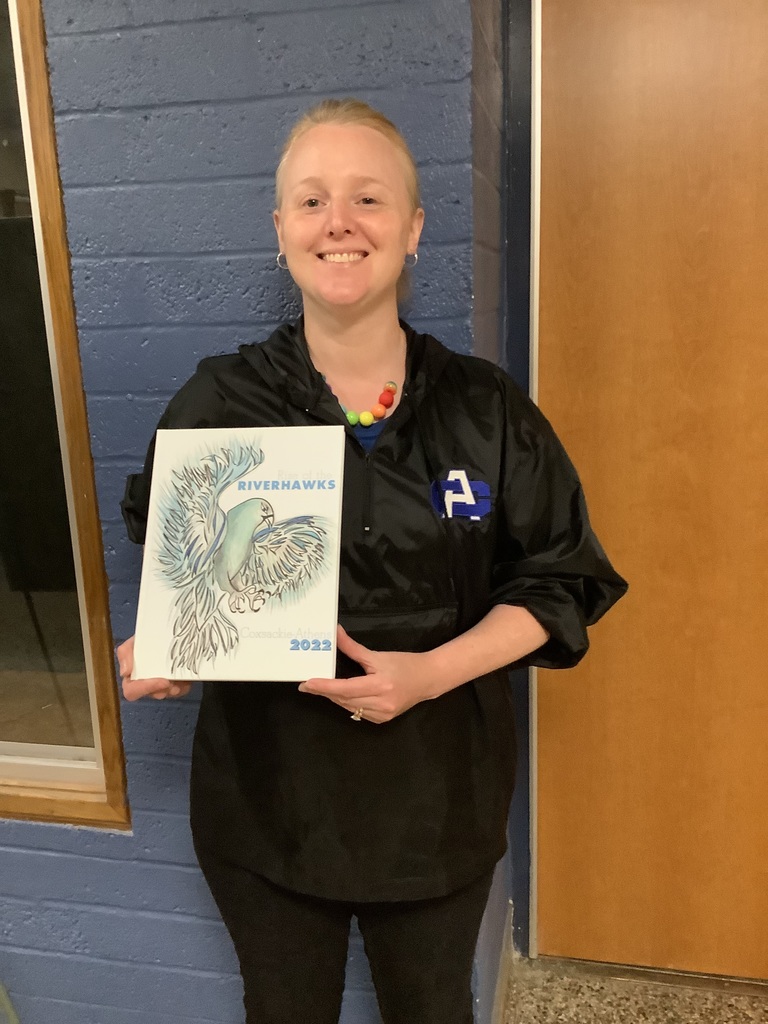 Five one-act plays written by students in Mr. Dial's ELA classes at Coxsackie-Athens High School have been selected as among the six winning plays in the Collaborative School of the Arts at Capital Repertory Theater's (theREP) 2022 Young Playwright Contest. The 5 winning plays from C-A are: -- "The Yellow Notebook" by Emma Pelton, Hannah Richards, and Amara Mitchell -- "Ghost Writers" by Samantha Gallagher -- "Before It Falls" by Noelle Abushqeir and Jack Bruno -- "Crystal Gazer" by Chiara Cenci and Reese Taylor -- "The Church" by Sylvia Mattraw-Johnston, Nicholas Vanhoesen, and Sam Mozzillo Their scripts will be included in the New Voices reading in theREP's upcoming 11th Annual "Next Act!" New Play Summit -- which will air, virtually, from June 10th to June 13th, 2022, on all the Proctors Collaborative's Streaming Platforms. In addition, these students will receive a workshop on new play development -- with a professional theater director and/or playwright, as well as see their plays professionally produced this July with theREP's Summer Stage Young Acting Company -- where the C-A students will be invited in to attend the first read-through as well as at least two additional rehearsals to continue to develop their plays. Performances are scheduled in July (July 29th at 4p.m., July 30th at 11a.m. and July 31st at 6 p.m.).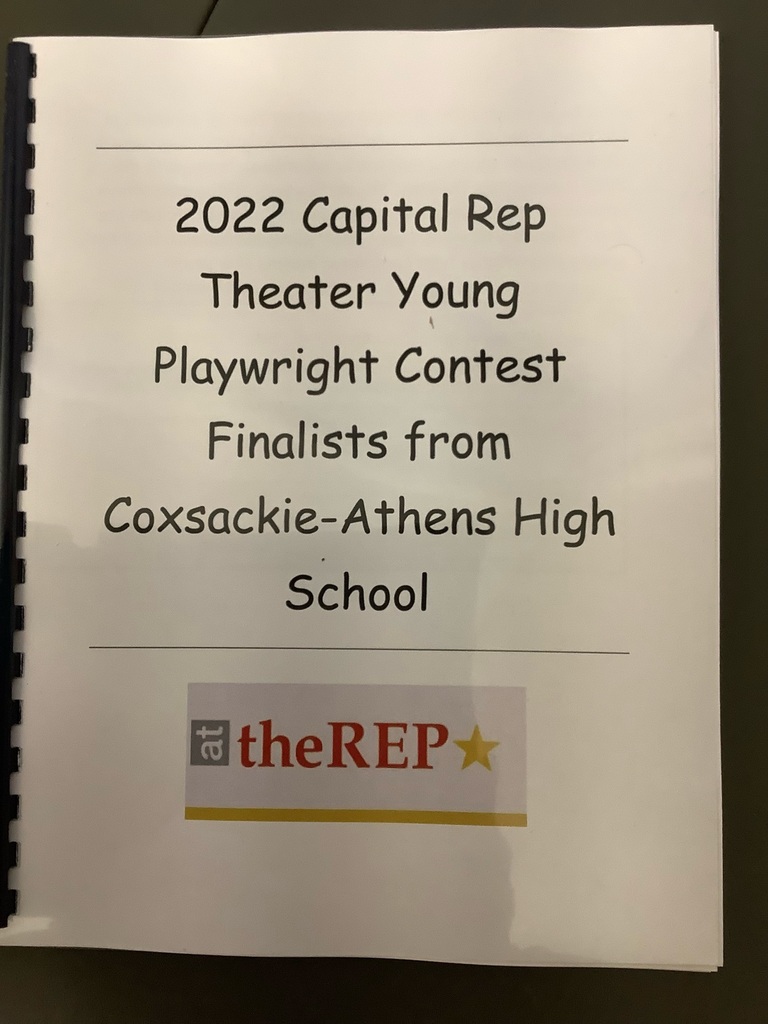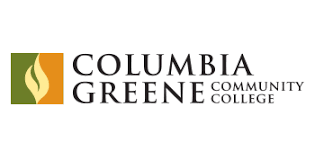 The US History Regents exam scheduled for Wednesday, June 1st at 8:30 am has been canceled. High School students should be in attendance on June 1st since there is no exam. Thank you."
The Quarter 4 Progress Reports have been published to the parent portal and are available on eSchool. If you have any questions regarding your child's progress, please contact his/her teachers directly or call the HS Counseling office at 518 731-1810. Thank you.
The Junior and Senior classes spent an enchanted evening at The Falls Venue in Hudson, NY on Saturday, May 21. Congratulations to the Junior Class officers and prom committee for providing a night filled with beauty and dancing! And congratulations to the Junior Class Prom Court! King Jacob Allen and Queen Grace Bartels Prince Gediwon Williams and Princess Molly Bartels Duke James Wais and Duchess Paige Bender Count Ryan Ulscht and Countess Sophie Coleman Baron Brady Penet and Baroness Nora DuPont Lord Jacob McCarthy and Lady Charlotte Ronin

The Greene County Children, Youth & Community Advisory Board is pleased to announce their selections for their 2022 Youth Awards. A description of the activities and involvement within the community for each youth nominated was submitted to the Advisory Board portraying a caring, dedicated individual whose efforts and accomplishments should be recognized. Selecting the awardees out of the many excellent nominations was a very difficult task. However, they are confident that the awards are being made to very deserving young members of our county: Samuel Mozzillo, Coxsackie-Athens High School – 2022 Greene County Youth of the Year; Gabriel Hoglund – Coxsackie-Athens High School – Children, Youth & Community Advisory Board Chairman's Choice Award and Brianna Leishear, Windham Ashland Jewett Central School – Greene County Department of Human Services Director's Award. Please click on the link for more information :
https://drive.google.com/file/d/1KRoc37FHqlu0J0gAUDM2YSmvwL4sbweC/view?usp=sharing

The 10th grade team has selected Rocco Salvino for our Student of the 3rd Quarter. Rocco is a hard working student who is very curious and asks insightful questions. He can work with anyone in class because he is easy going and makes his classmates feel comfortable around him. He leads his group in class activities and helps guide them if they are unsure. He also doesn't take himself too seriously, is easy to laugh and always shows up to class with a smile on his face.

Congratulations to Tyler Padilla who was nominated to be Rotary Student of the Month for April. Ms. Zumbolo wrote this about Tyler: "Tyler is a respectful and mature young man. He transferred into CA from a private middle school and transitioned well into high school, especially amongst the pandemic. Tyler has shown incredible strength, perseverance, and improvement through some difficult times over the last two years and should be proud of all he has accomplished! His character and motivation align perfectly with the qualities of a Rotary Student of the Month!" Tyler, you make C-A shine!

The C-A Art Department is pleased to announce that Sophomore Annabella Svara's work has been awarded 3rd place in the Capital Region High School Media Arts Festival! Annabella's work was entered into the category of Photography: Abstraction. Congratulations to Annabella and her teacher Mr. Olstad for this wonderful achievement! Annabella's work will be included in a live stream starting at 10:00 am on April 13th. Her work was selected from entries by students in 16 area school districts. Please see the attached flyer for information on how to view the live stream. A round of applause is also in order for the following students who had work chosen by Mrs. Anderson, Mr. Olstad, and Mr. Yanofsky for inclusion in this exhibit: Macyn Bradt, Destiny Carrera , Sif Craver, Levi Goddin, Shelby Macie, Ruth Thomas. At the end of the live stream, a link will be provided that includes work from all of the entrants. Way to go C-A Artists! --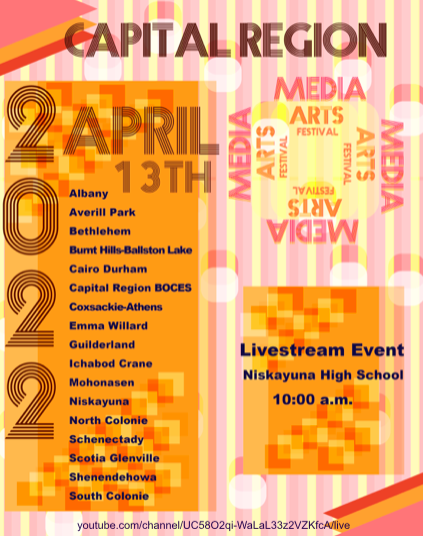 The High School library celebrated National Walk Around Something Day.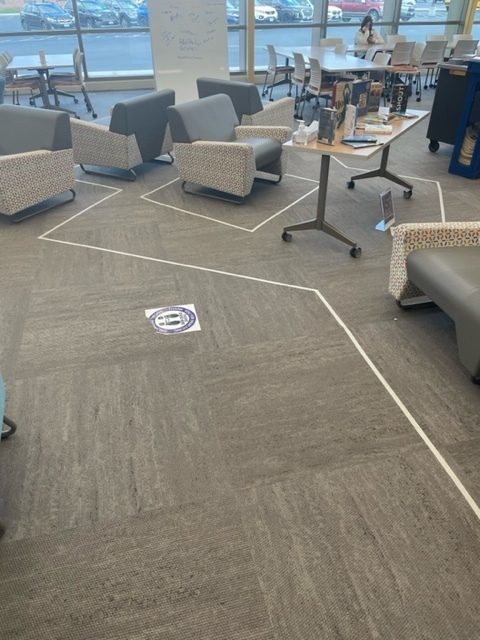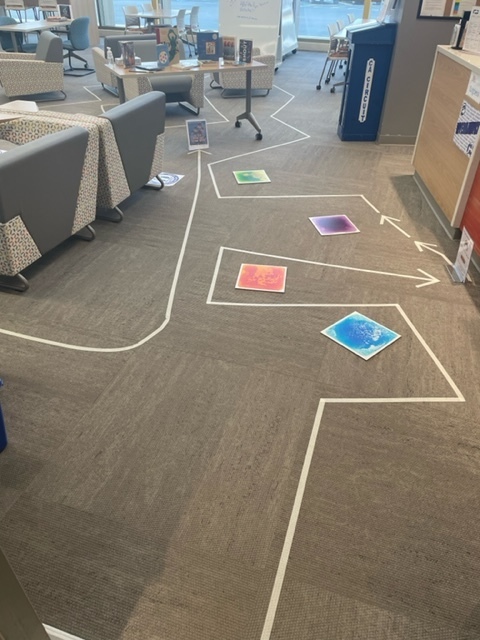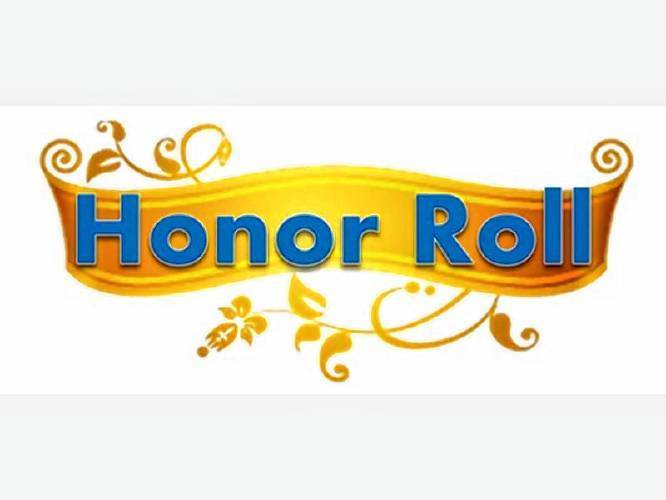 Deb Anderson received a beautiful email and video from Jeremy Bloom, the wonderful new Director of the Athens Cultural Center thanking students and teachers for their teamwork. Ms. Anderson would also like to extend to each of our Art teachers a very big thank you for a great evening and for all of the good work they do everyday in the classroom! The video linked below is best viewed on a phone since for some reason instagram only seems to function on mobile devices. "Deb, Thanks so much to you and all the teachers for putting together a great show and also for producing such a successful event, from you all bringing the snacks to setting everything up to greeting all the people! There's some pictures and a video up on our instagram -
www.instragam.com/athensculturalcenter
Elisa had the awesome idea to put that in the school newsletter that goes out Sunday along with our flyer for the free classes this summer. Really appreciate you all spreading the word about those, as well as the pop up family events, and other classes that happen here. So cool and inspiring to see the creativity in the room yesterday afternoon! Thanks again, Jeremy"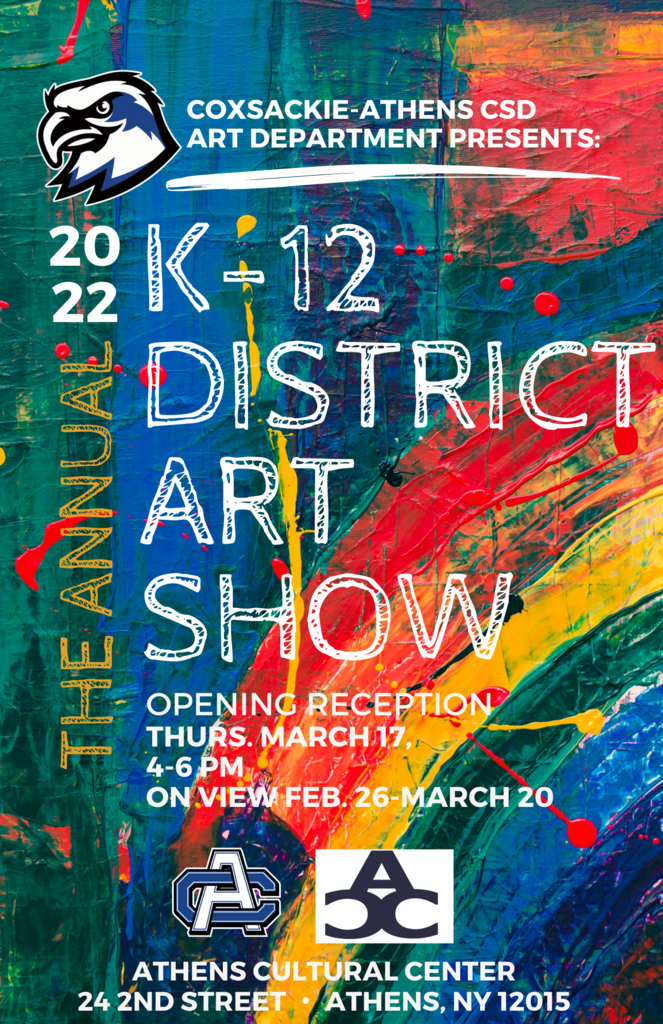 Members of the High School Student Council attended the 4th Annual Youth Summit at the Albany Capital Center on Wednesday, 3/16. Highlights of the day were presentations from SafeBAE (a survivor-founded, student-led national organization whose mission is to end sexual assault among middle and high school students.), The Harris Project (advocates for the implementation of integrated treatment opportunities to improve the lives of teens and young adults diagnosed with co-occurring disorders - which is the combination of one or more mental health challenges and substance misuse and/or addiction.), as well as performances by Benjamin Lerner (Benjamin Lerner, the Great-grandson of Irving Berlin, who is a Vermont-based Composer, Writer, Radio Host, and Recovery Advocate. Benjamin started his musical career as a classical piano prodigy. By his early twenties, he was an IV heroin and crack cocaine addict. Now sober since June 13, 2016, he journals his journey in addiction and sobriety in his all new piano-raps, which combine classical piano and rap.). This is the 2nd time Student Council was invited to attend and they are hoping to make it a yearly tradition so that they can bring these valuable resources back to CA.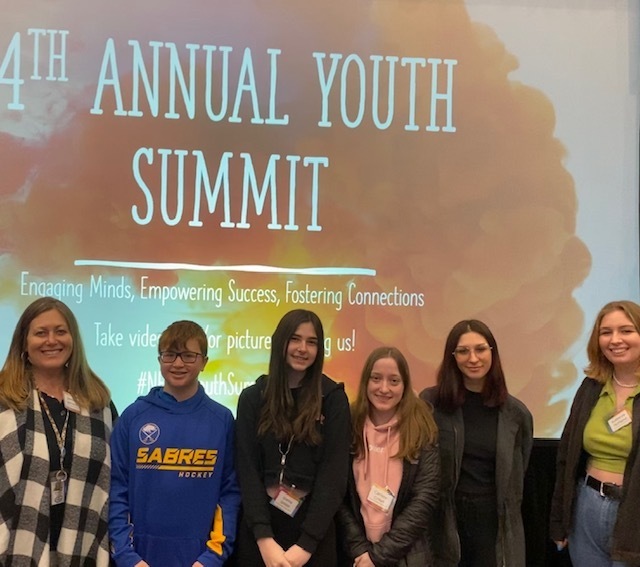 The Coxsackie-Athens Drama Club will be presenting "Into The Woods" music and lyrics by Stephen Sondheim, book by James Lapine. The play will take place in the High School auditorium on Friday, March 11th at 7 pm and on Saturday, March 12th at 7 pm. Admission for adults is $12.00 and for students $6.00.